Conjuring up images of crashing surf, verdant wine valleys, charming seaside shops and buzzing street cafes, Monterey Bay has a classic, enduring appeal. Home to some of the world's most spectacular coastline, vibrant streets of historic Cannery Row, scenic hiking trails, driving routes, glorious wine country, and pristine golf courses – Monterey is an unmatched California escape. Monterey Bay engages travelers in endless ways. And when the road beckons, visitors can take the beautiful coastal drive to neighboring destinations, such as Big Sur and Carmel, all within close proximity of the Monterey Plaza Hotel & Spa.
Contact the Monterey Plaza Hotel & Spa at
800-334-3999
Make reservations at the WCSA rate of $229 per night for a room with an Inland View!
 Be sure to make your reservations before the cut-off date!
 After the cut-off,  reservations will be based on room availabilty and the current hotel room rates.
HOTEL CUT-OFF MARCH 15, 2018
Know Before You Go
The Monterey Plaza Hotel & Spa is a 100% non-smoking facility.
Check In: 4pm Check Out: 12pm (noon)
Guests 13 years of age or older are welcomed in the Vista Blue Spa facility with a parent/guardian at all times.
Alcoholic Beverages and outside food/drink are not permitted in the Vista Blue Spa.
Pack your swimsuit! Vista Blue Spa offers two luxurious rooftop hot tubs.
RESORT FEE: The Monterey Plaza Hotel & Spa charges an amenity fee of $29 per room per night. This amenity fee is not itself a tax. We have included valet parking, the Spa facility fee, internet access, local telephone calls, and local transportation in this $29 nightly fee.   The RESORT FEE is included in the WCSA ROOM RATE OF $229!  For a full list of hotel services and amenities, please click here.
All Reservations include
Luxurious Guestroom
Coastal Curator Service
Complimentary Wine & Cheese Reception on Thursday Evenings
Courtesy Land Rover shuttles
Complimentary bicycles
24-Hour Valet Parking
24-Hour In-Room Dining
24-Hour Business Center
Same-day Dry Cleaning Service
Complimentary Shoeshine
Electric Vehicle Chargers of 250v
Fiber Optic Internet Access throughout property
Getting To the Monterey Plaza Hotel & Spa
For guests flying in to San Francisco International, San Jose International, or Monterey Regional airports, Monterey Airbus offers shuttle services and point-to-point transportation to nearby locales.
NEARBY ATTRACTIONS
Monterey Bay Aquarium
Discover why the Monterey Bay Aquarium is consistently ranked #1 in the United States for its innovative exhibits and unsurpassed visitor experience. With a mission to inspire conservation of the oceans, the aquarium is a stunning showcase for the habitats and sea life of one of the world's richest marine regions.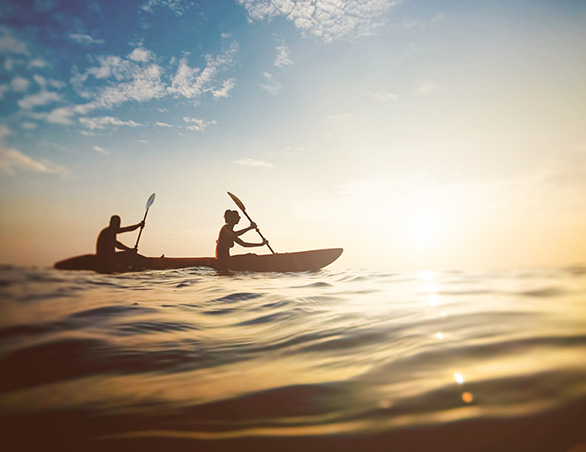 Adventures by the Sea
Right next door to our hotel, hotel guests enjoy complimentary bikes and can also rent kayaks, paddle boards or join an adventure tour of the area.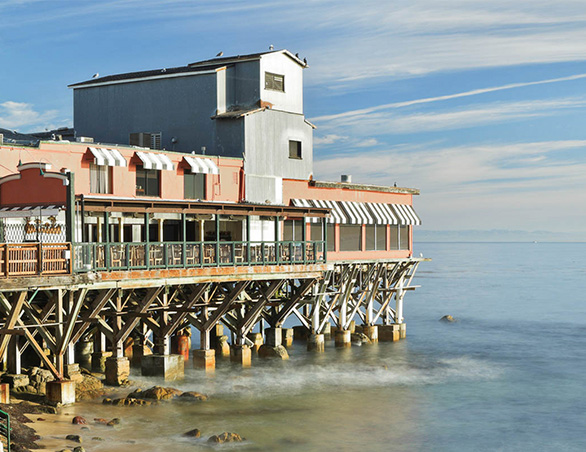 Cannery Row
Our luxury Monterey Resort is located on Historic Cannery Row. These once gritty dockside streets have been transformed into a vibrant modern, boulevard, alive with chic boutiques, upscale galleries, and over 25 restaurants and wine tasting rooms.
SPA & FITNESS
Our award-winning luxury, spa and fitness center offer a coastal setting, to restore balance and refresh your sense of wellness. Enjoy a generous dose of sunshine on the stunning sundeck complete with two whirlpool spa tubs and a fireplace on the top floor of Monterey Plaza Hotel.
Have questions? Give us a call (831) 646 – 1700
Vista Blue Spa
Our state-of-the-art Vista Blue Spa is a sophisticated escape for our guests and locals alike. Located on the penthouse level of the hotel, with dramatic panoramic views from the sundeck, the breathtaking Monterey spa has been named one of Travel & Leisure's TOP 25 Spas, and, for three years in a row, one of Conde Nast's TOP 75 Hotel Spas in North America.
Monterey County Shopping
Monterey County's shopping scene is full of great deals and extraordinary surprises, from fine art to locally owned boutiques and everything in between.
In addition to personal attention and unique, affordable goods, shoppers in Monterey County enjoy variety. The region's stores, studios and retail centers are as diverse as its beach, mountain and vineyard landscapes. That means the perfect purchase is never hard to find.
Shopping Spots
Where to swipe those cards? These shopping hot spots are sure to satisfy!
More than 100 artists maintain galleries and studios in Carmel-by-the-Sea. The sidewalks within this one-square-mile village are fronted by family owned boutiques and specialty shops that carry clothing, gifts, wines and more.
In downtown Monterey, independent stores line Alvarado Street while Cannery Row is the place for visitors to pick up souvenirs, art, antiques and wine.
In addition to golf apparel and accessories, gifts like indulgent bath products, jewelry and art from the Pebble Beach will wow shoppers.
Home to many of the Monterey Peninsula's automotive dealerships, Seaside also has an array of independent stores in the downtown area plus national retailers on its outskirts.
Old town Salinas boasts one-of-a-kind boutiques, tea and wine shops, and home furnishings and sporting goods stores, while other well-known retailers anchor area shopping centers.
Galleries, greenhouses and tasting rooms can be found in the Mid-Valley Shopping Center and Carmel Valley Village.
Shopping Centers & Villages
The Barnyard in Carmel is an upscale open-air shopping village with specialty shops and some of the area's stand-out restaurants. Neighboring Crossroads Shopping Village is an avenue of boutique fashion, jewelry, gift shops, and restaurants.
Just eight blocks from the beautiful Carmel-by-the-Sea coastline, Carmel Plaza is a luxury shopping area with designer brands and restaurants. Their seasoned concierges can assist you with your shopping plans.
Monterey's Del Monte Shopping Center features department stores, numerous brand stores and casual restaurants, and a 13-screen, state-of-the-art movie theater complex. And Northridge Mall in Salinas is Monterey County's largest mall, with over 130 shops.
Our address
Monterey Plaza Hotel & Spa
400 Cannery Row
Monterey California 93940